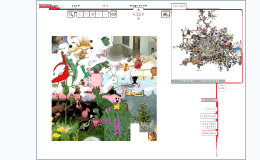 communimage is a collaborative art project since 1999. Thousands of people have since then contributed to a growing sea of images. communimage is an attempt to entertain a visual global dialogue.

Statistic: 21.09.2009, 18:29
Number of images: 25953
Number of contributors: 2276
Number of origin countries: 92

Printing size: 156.34152m2 (14.3736m x 10.8932m)

The visual interface of communimage is a grid system that defines exactly the position of each image (128x128 pixel), that has been uploaded. Each image (or "patch") carries a certain amount of meta information (added by the creator of the image). This meta information will be used to visualize facets of communimage.